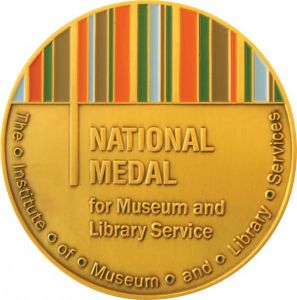 Institute of  Museum and Library Services Announces Recipients of 2012 National Medal for  Museum and Library Service
                                       Nation's Highest Honor Recognizes  Exceptional Contributions of Museums and Libraries
             WASHINGTON (November  5, 2012) – The Institute of Museum and Library Services today announced the  recipients of the National Medal for Museum and Library Service. The National  Medal is the nation's highest honor conferred on museums and libraries for  service to the community and celebrates institutions that make a difference for  individuals, families, and communities.
             This year's honorees exemplify the nation's great diversity  of libraries and museums and include a school library, county library systems,  individual libraries, children's museums, an art museum, science centers, a  park conservancy, and more, hailing from 10 different states. The 2012 winners  of the National Medal for Museum and Library Service are:
•Bootheel Youth Museum, Malden, Mo.
•Contra Costa County Library, Pleasant Hill, Calif.
•Cumberland County Public Library, Fayetteville, N.C.
•Garfield Park Conservatory, Chicago, Ill.
•Long Island Children's Museum, Garden City, N.Y.
•Museum of Contemporary Art, North Miami, Fla.
•Naturita Community Library, Naturita, Colo.
•Pacific Science Center, Seattle, Wash.
•Park View High School Library Media Center, Sterling, Va.
•Shaler North Hills Library, Glenshaw, Pa. 
             "Museums and libraries serve as community anchors and this  year's winners – from urban North Miami to Naturita, Colorado, home to just 542  people – showcase the positive difference these institutions make for everyone.  Innovative programs are teaching residents how to read late in life, inspiring  children to dream, using technology to offer e-books on the go, and bridging  cultural differences," said Susan Hildreth, director, Institute of Museum and  Library Services. "This year's National Medal for Museum and Library Service  recipients demonstrate the many ways libraries and museums build strong  communities and provide opportunities for individual success."
              Medal winners are selected from nationwide nominations of  institutions that demonstrate innovative approaches to public service,  exceeding the expected levels of community outreach. The National Medal will be  presented during a celebration in Washington, D.C. on November 14.
To learn more about the 2012 National Medal winners, please  visit http://www.imls.gov/about/medals.aspx.