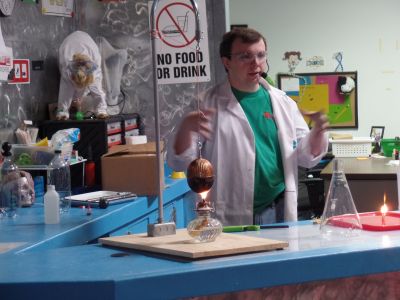 Our resident Mad Scientists have collected some of their favorite science demonstrations and are always eager to share them! They make a flame throwers, blow up eight foot bags in under 10 seconds, make a tornadoes out of fire and much much more! There are even a few experiments that you can try at home, so the learning and fun doesn't have to end here. The Mad Scientist's goal, just like the museum, is to foster and unquenchable thirst for knowledge and an insatiable curiosity about life. So, be curious, ask questions, and never stop learning! 
The shows are always free to our guests and we will post all upcoming science shows in the events section and on the Facebook page so that no one misses out on the fun!  
Schools may also book science shows (for free) when planning a field trip to the Bootheel Youth Museum. 
The BYM scientists have made sure that the science shows are appropriate and exciting for all ages! For more information contact the museum.